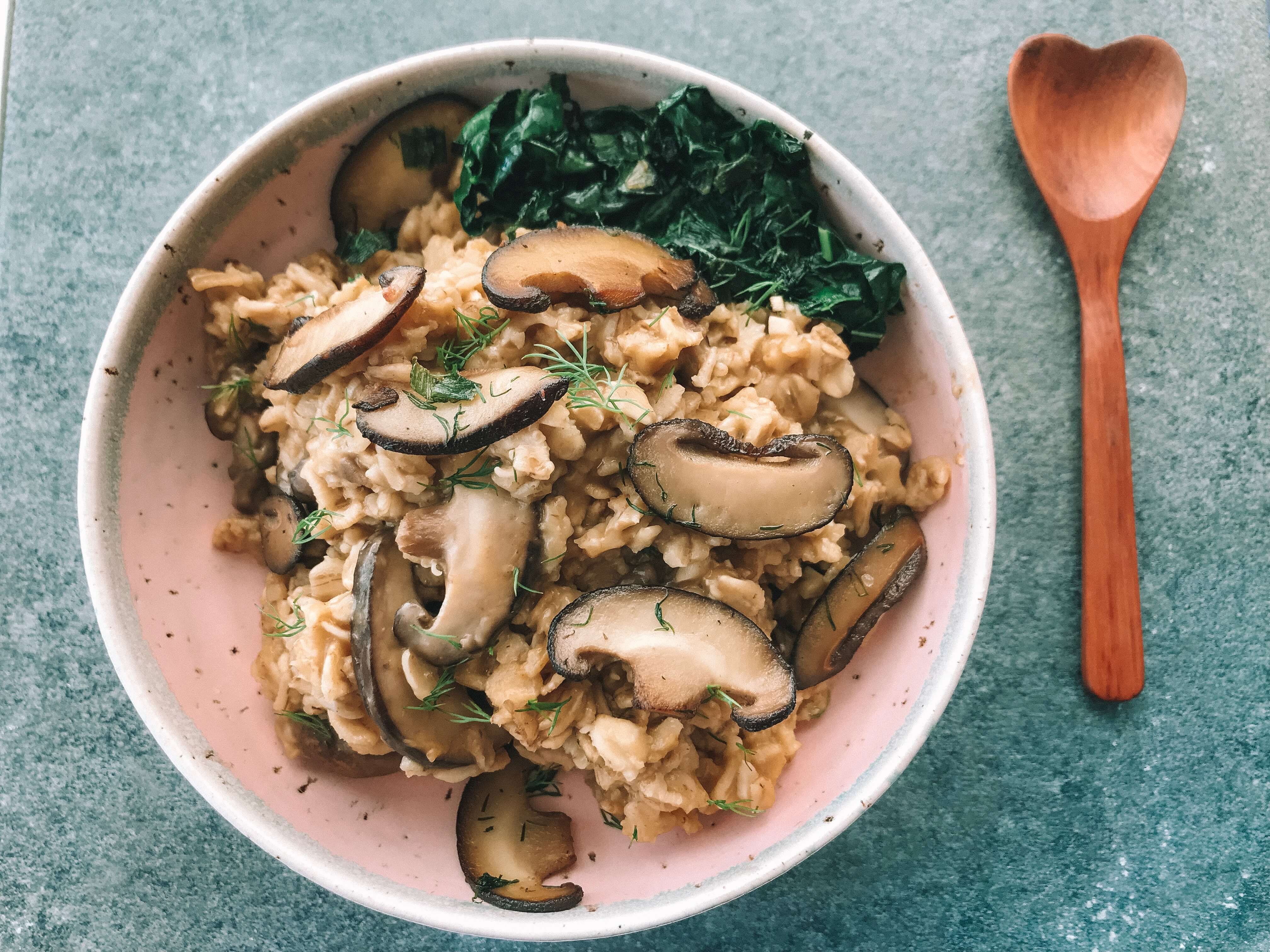 Savory Oatmeal with Mushrooms
Oatmeal is fast, delicious, rich in fiber and all the other good stuff. I always loved it until I woke up one morning with 5 kilograms of oats dropped at my front door in London! Clearly, I had way more oats than I had ever dreamt of! After a few experimentations, I couldn't have any sweeter / fruity oatmeal anymore…. I needed something different and something savory! This recipe is a game changer – it tastes just like risotto – and brings me so much joy every time I make it, whether in Los Angeles or anywhere else in the world.
I hope you enjoy it as much as I do.
Ingredients
Vegan, Gluten free.
1 cup of oats. I used gluten-free rolled oats
1/2 cup mushrooms any kind, I used Shiitake and Crimini
10 oz vegetable broth
2 tbs vegan butter
2 garlic cloves, minced
1 teaspoon fresh thyme
Instructions
Heat the vegetable broth until it starts boiling, then reduce heat to low and add the oats
In a separate saucepan, melt butter on medium heat
add garlic and mushrooms; cook until they have turned brown.
add thyme to mushrooms stirring frequently. Reserve
Once the oatmeal have absorbed almost all the vegetable broth, take the mushrooms mix out of the saucepan and add it to the cooked oatmeal.
Cook for 1 more minute and voilà.
Suggestion: I love to sautéed kale or spinach to add some greens to my dish.
Please tag @wellnessgalaxy in all of your creation! Would love to check your posts too <3
love you,
Wellness Galaxy